Upcoming Events
---
Calendar – August – September 2017
August 17 – 20 – Clallam County Fair. Join us at the CCRP Fair Booth. Contact Pete Heisel to sign up as a volunteer.
August 26 – Republican Women of Clallam County meet at First Federal on W. Washington in Sequim starting at 11 a.m.
THERE WILL BE NO CENTRAL COMMITTEE MEETING IN AUGUST.
Sept. 12 – Quarterly Dinner meeting to be held at Joshua's Restaurant in Port Angeles. Starts at 6 p.m. Speaker will be Helena Paneyko from Venezuela. She will be sharing Venezuela, its situation, how we got there (a little bit of recent history), statistics, who is there now and why it is a real threat to the United States. Contact Ann Ricks for information about the menu, and to reverse your spot by Sept. 5th. Click here or fill out the form below.

Sept. 17 – Constitution Day – In celebration of the signing of our U.S. Constitution in 1787.
Sept. 23, 2017 – RWCC meeting at Joshua's Restaurant in Port Angeles starting at 9 a.m. There will be a speaker (to be announced).
---
Our Lincoln Day Dinner has been scheduled for February 24, 2018 at Cedars at Dungeness. Mark your calendar!
---
Would you like to get involved with the county Republican Party and make a difference? Contact us here.
Mark your calendar now for the Lincoln Day Dinner – to be held on February 24, 2018!
---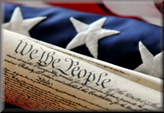 ---
Fill out the form below to make a reservation and dinner choice(s)
for the Sept. 12, 2017 Dinner Meeting.
Please reserve by September 5th, 2017
Budget 2015
The budget for Clallam County 2015 is available. To review it and see how your money is being spent, go to
http://clallam.net/bocc/Budget2015.html
---
Election 2016
Click here for information for election results.
Clallam County Elections Department
---
Our Legislature
The legislative session begins annually on the second Monday in January. In odd-numbered years, when the state budget is debated, the state legislature meets for 105 days, and in even-numbered years for 60 days.
The governor of Washington, if necessary, may call legislators in for a special session for a 30-day period at any time in the year. Legislators also may call themselves into special session by a two-thirds vote by both the House of Representatives and the Senate.
Click here for an overview and excellent information about what's happening and where to locate information: http://leg.wa.gov/
Phone Numbers and Web Sites
Legislative information Center
(Bill Room): 360-786-7573
Legislative Hotline: 800-562-6000
During session:
8 a.m. to 8 p.m. M-F
During interim:
8 a.m. to 5 p.m. M-F
Chief Clerk of the House:
360-786-7750
Secretary of the Senate: 360-786-7550
Governor's Office: 360-902-4111
---
The Republican newsletter is available by e-mail at no charge. If you prefer receiving your periodic Republican News via e-mail rather than a hard copy via the U.S. Postal Service, please e-mail your request to
sueforde@clallamrepublicans.org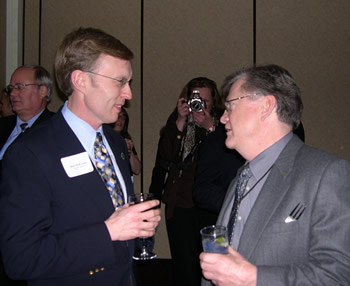 Former Gubernatorial Candidate and State Atty General Rob McKenna
visits with Chair Dick Pilling.