Upcoming Events
---
Calendar – July 2017
July 4, 2017 – Port Angeles 4th of July Parade – Join us on the hay wagon float for the 4th. The parade starts at 6 p.m. If you'd like to participate, either riding on the hay wagon, or walking alongside to hand out flags to onlookers, be at the courthouse parking lot by 5 p.m. (You can help decorate the wagon, too.) It's a good idea to bring water.
July 8, 2017, 11:00 am at Robin Bookter's house. It will be a pot-luck/barbecue. Spouses, friends and relatives are invited. Contact us for more information.
July 10, 2017 – Central Committee meeting, GOP headquarters, starts at 6:30 p.m.
July 11, 2017 – Elections Observer Training, County Courthouse, starts at 9 a.m. If you'd like to be an official observer for the returns on Election Day, you'll need to get training. Contact GOP Chair Matthew Rainwater to sign up.
August 17 – 20 – Clallam County Fair. Join us at the CCRP Fair Booth. Contact Pete Heisel to sign up as a volunteer.
August 26 – Republican Women of Clallam County meet at First Federal on W. Washington in Sequim starting at 11 a.m.
THERE WILL BE NO CENTRAL COMMITTEE MEETING IN AUGUST.
Sept. 12 – Quarterly Dinner meeting to be held at Joshua's Restaurant in Port Angeles. Starts at 6 p.m. Speaker will be Bruno Kelpsas.

---
Our Lincoln Day Dinner has been scheduled for February 24, 2018 at Cedars at Dungeness. Mark your calendar!
---
Would you like to get involved with the county Republican Party and make a difference? Contact us here.
Mark your calendar now for the Lincoln Day Dinner – to be held on February 24, 2018!
---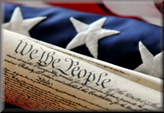 ---
Budget 2015
The budget for Clallam County 2015 is available. To review it and see how your money is being spent, go to
http://clallam.net/bocc/Budget2015.html
---
Election 2016
Click here for information for election results.
Clallam County Elections Department
---
Our Legislature
The legislative session begins annually on the second Monday in January. In odd-numbered years, when the state budget is debated, the state legislature meets for 105 days, and in even-numbered years for 60 days.
The governor of Washington, if necessary, may call legislators in for a special session for a 30-day period at any time in the year. Legislators also may call themselves into special session by a two-thirds vote by both the House of Representatives and the Senate.
Click here for an overview and excellent information about what's happening and where to locate information: http://leg.wa.gov/
Phone Numbers and Web Sites
Legislative information Center
(Bill Room): 360-786-7573
Legislative Hotline: 800-562-6000
During session:
8 a.m. to 8 p.m. M-F
During interim:
8 a.m. to 5 p.m. M-F
Chief Clerk of the House:
360-786-7750
Secretary of the Senate: 360-786-7550
Governor's Office: 360-902-4111
---
The Republican newsletter is available by e-mail at no charge. If you prefer receiving your periodic Republican News via e-mail rather than a hard copy via the U.S. Postal Service, please

e-mail your request to
sueforde@clallamrepublicans.org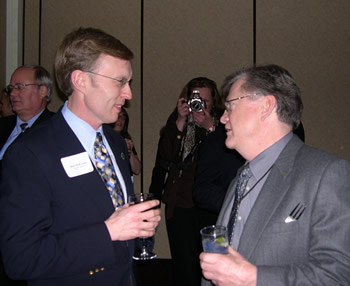 Former Gubernatorial Candidate and State Atty General Rob McKenna
visits with Chair Dick Pilling.