Long time Republican and veteran Richard "Dick" French passes
Our thoughts and prayers go out to the family of Richard "Dick" French, who passed away Dec. 2.  He was born on March 25, 1925 and passed away on Wednesday, December 2, 2015.
Richard was a resident of Port Angeles, Washington at the time of his passing.
Graveside Service Friday Dec 11 201511:00 AM Memorial Service Friday Dec 11 20151:00 PM Visitation will be from 9:00 am to 10:30 am on Friday December 11 2015 at Drennan Ford Funeral Home 260 Monroe Road Port Angele.
A Graveside Service with Military Honors by both the United States Navy The United States Army was held at 11:00 am Friday December 11 2015 at Mount Angeles Memorial Park 45 Monroe Road Port Angeles. Pastor David Stevens  officiated.
A Memorial Service was held with a packed house at 1:00 pm at Grace Baptist Church 4221 S. Mount Angeles Road Port Angeles. Pastor David Stevens officiating. A reception at the church followed.
---
Our thoughts and prayers are also with long-time active Republican and PCO Wilma Johnson and family, on the passing of her beloved husband Dan on Nov. 24, 2015.
---
Long-time Republican Tom Santos passes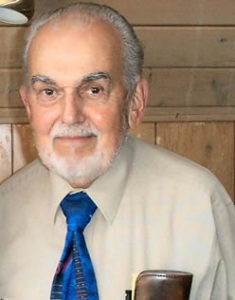 Tom Santos passed on Thanksgiving Day, Nov. 27, 2014.  Not only a lifelong active Republican, but a wonderful election worker for many, many years.  He was a wonderful man and friend to many of us.
Born on March 25, 1922, Tom was the first generation of his family  in the United States in Irvington, California. His parents, Manuel and Amelia Bettencourt Santos, both came from the same Azores Island but didn't meet until they arrived here.Tom had two children, Diane and Michael, by his first wife, Ruth (deceased), whom he married in 1943; four grandchildren, Sheri, Joaquin, Shane and Karessa; and three great-grandchildren, Tiffany, Clementine and Zebulon.He married his second wife, Zita (deceased), in 1952, and they split their time between Scottsdale, Arizona, and North Lake Tahoe, where he worked as a bartender at the Cal-Neva resort during the Frank Sinatra era. – See more at:
A man of many talents, Tom was an avid hunter, an accomplished gardener and an enthusiastic rock hound who taught himself gem cutting and, as a member of Northwest Federation of Mineralogical Societies, won many awards.When Tom was growing up his father always told him to "give back." When he and Zita moved to Sequim, he started doing just that.
 Being an outdoor enthusiast, he became active in the conservation districts, Dungeness Bay Watershed Committee and is a charter member of six different related committees.When the Dungeness River flooded in 1979, he worked with the Army Corps of Engineers to help rebuild the dikes and restore the river.He was nominated four times for Clallam County Citizen of the Year in the early 1990s and was named Grand Marshal of the Sequim Irrigation Festival Parade in 2008.He is a life member of the Sequim Prairie Grange, participating at both county and state levels, including Deputy for State Master in Clallam County.He was instrumental in getting the Dryke Memorial at Carrie Blake Park, in raising money for the fairgrounds' grandstand in Port Angeles, in working with Neighborhood Watch on crime prevention, planted cherry trees outside the Chamber of Commerce, formed the North Olympic Fruit Club, campaigned for the launch ramp at John Wayne Marina,  worked at the Clallam County Elections office, spent many volunteer hours for
St. Luke's Episcopal Church
and much, much more.
Service at

1 p.m. Friday, Dec. 5,

at St. Luke's Episcopal Church in Sequim. 
---
Dave Cummins, long time friend and COP stalwart, passes
It is with great sadness that we report our good friend Dave Cummins passed away during the night on Wednesday, July 30th, 2014.  In addition to being a great friend, he was a stalwart of the Republican Party, serving in many roles, the most recent being State Committeeman for many years. He was elected to and served as chair of the Home Rule Charter.
He served as the chair of our county conventions for many years, worked behind the scenes are candidates' races, and was always available to share his wisdom and wit.  He loved his involvement with politics, and worked hard to further the cause of freedom and the principles of the Republican Party platform.
He was a strong Christian, and so is joyfully with the Lord today.  It is a bittersweet time for us – knowing he is okay, but that we will miss him here.
From the Peninsula Daily News…
Friends and political foes are remembering David Cummins, a land surveyor and stalwart of Clallam County conservative politics, as a man of loyalty, faith and integrity after he died last week."He was an absolute prince of a man," Clallam County Commissioner Jim McEntire said.Mr. Cummins, 61, died of a brain hemorrhage Thursday at Harborview Medical Center in Seattle.
A memorial service will be at 1 p.m. Wednesday, Aug. 6, at the Independent Bible Church, 116 E. Ahlvers Road, Port Angeles.
"He was one of those classic kind of guys who put his God first, his family second and his political party third," Commissioner Mike Chapman said.
A Sequim native who lived in the Dungeness Lighthouse with his Coast Guard father during his early boyhood, Cummins was active and influential as an adult in the Clallam County Republican Party, serving as state committeeman and Precinct Committee Officer for Lost Mountain precinct No. 245.
"He was very, very committed to politics, and he worked hard at it because he believed in it," said Donna Cummins, his wife of 43 years.
He ran unsuccessfully for county commissioner and state representative.
"The party and indeed this entire community will miss him," said Dick Pilling, chairman of the Clallam GOP.
Cummins was vice chair of the party when it decided to exclude Chapman from its ranks for his endorsement of Democrat Steve Tharinger in the 2008 county commissioner contest.
"He agreed with you until he didn't, and he always let you know how he felt," Chapman said.
"But he put his party first, and he had the decency after they made their decision to call me and tell me I was going to get that letter.
"I've always respected him for that."
Shortly after graduating from Sequim High School in 1970, Cummins and a then-15-year-old Donna eloped in the middle of an October night.
He then began working for the U.S. Geological Survey, where he mapped seven Western states and Yellowstone National Park.
The couple had two daughters, Meredith (Gilliam), now of Renton, and Kimberly (Odegaard) of Martinez, Calif.; eight grandchildren, and one great-grandchild.
After their children's birth, the couple moved back to Sequim where Mr. Cummins started a surveying business with his father-in-law.
He later took over the business and ran David Cummins & Associates for the next 30 years, Donna Cummins said.
Cummins struggled with diabetes after being diagnosed in the mid-1990s.
"He was never too sick or too busy to answer questions and sit down and talk to anyone who need to talk," Pilling said.
A devout and passionate Christian, Cummins was also heavily involved with the Independent Bible Church and volunteered to perform church services for the elderly residents of Crestwood Convalescent Center in Port Angeles.
The family asks memorial contributions be made to the Indpendent Bible Church's mission fund. Contributions can be made through the church's website: www.indbible.org.
He will be interred at the Dungeness Cemetery.
"He wanted to be there so he'd have a view of the lighthouse," Donna said.
---
Terry Roth passes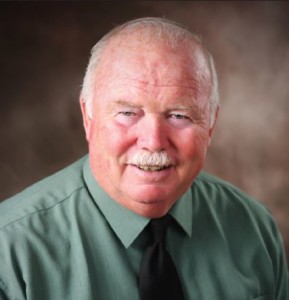 We are sad to report that long-time Republican Terry Roth passed away on March 2, 2014.  One of Terry Roth's last actions before his death Sunday morning was to stand for fallen veterans.
Roth, 72, attended last Friday's bell-ringing ceremony in Veterans Park next to the Clallam County Courthouse just as he had every month for decades to honor servicemen and -women who had died—a reflection of his active involvement toward remembering and helping the military, as well as his role in the GOP and various community services.
Terry was twice-elected to the Home Rule Charter Commission, and ran for County Commission in 2008. He served as president of the Port Angeles Downtown Association; as executive board member of the Port Angeles Chamber of Commerce, and as president of the Mt. Pleasant Grange/Community Assn. He serves as past president of Clallam County Veterans Association, is a member of the Marine Corps League, Mt. Olympus Det. in Port Angeles, and has worked on the Toys for Tots team for many years.
Terry served in the US Marine Corps Reserves from 1959-1961 at the Quantico VA and Reserve Center, Los Angeles.
Roth leaves behind his widow Maggie, two grown children, two grown stepchildren, eight grandchildren, a sister in Bothell and several nieces and nephews. stepchildren, and 5 (soon to be 6!) grandchildren.
We'll miss you, Terry!  Our thoughts and prayers go out to Maggie.
---
 Allan Bentley passes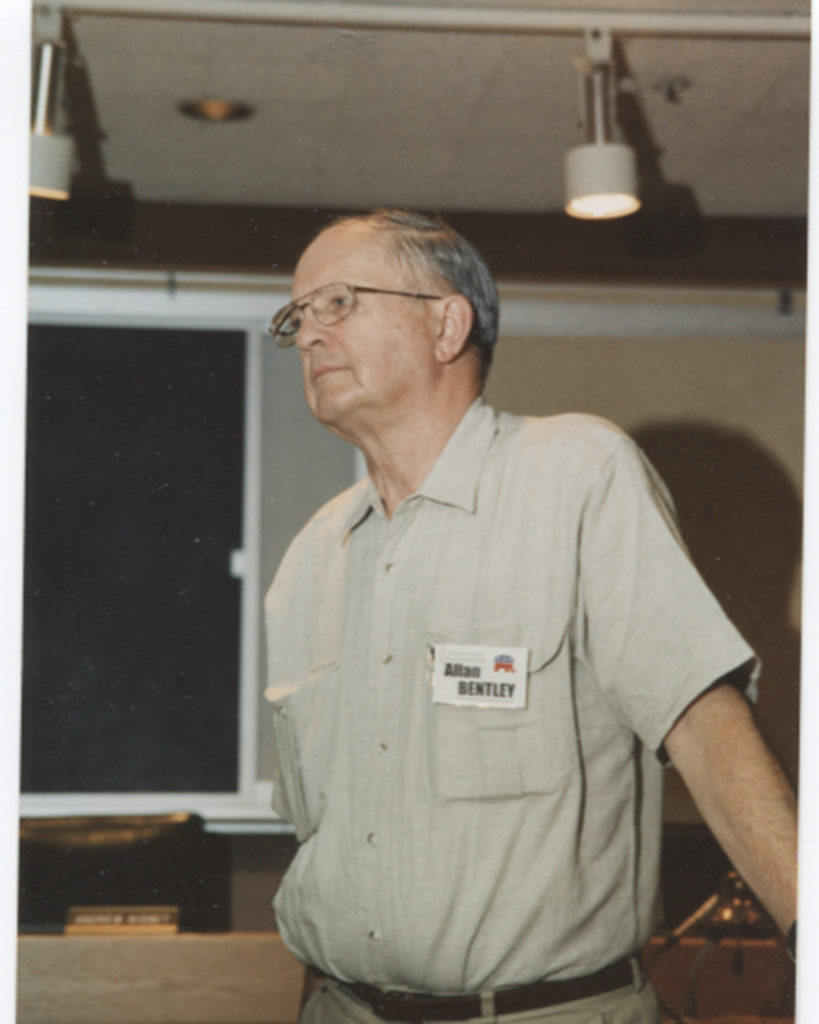 It is with great sorrow that we announce the passing of a wonderful man, Allan Bentley, who served his community in many ways.  He was a stalwart of the Clallam County Republican Party, a husband, father and friend.  He passed away on Sept. 28th.
Allan was born on Feb. 3, 1927, in Great Bend, Kansas. He served in the U.S. Army during World War II, then attended the University of Kansas, where he graduated in 1951 with a bachelor's degree in business administration.
He worked for 35 years in the insurance industry in many states, England and Canada, and retired in 1988 as a vice president of CAN.  He was very active in the Republican Party, most recently serving as a Precinct Committee Officer and volunteer at GOP headquarters.
He and his wife, Barbara, were married in 1953, a marriage that lasted 60 years. They had two daughters, Connie and Shelley,
There will be no funeral. Memorial donations may be sent to Peninsula Friends of Animals, P.O. Box 404, Port Angeles, WA 98362.
---
Andy Nisbet, active Republican, State legislator, passes
Posted 3/6/2013
Honorable Colonel Ret. Andrew "Andy Nisbet Jr., 91, of Leavenworth, KS and Sequim,WA passed away February 24, 2013 at the University of Kansas Medical Center.
Andrew was born on September 10, 1921 in Oakland, CA the son of Andrew and Edith Pearl (Savercool) Nisbet. He grew up in the Bay Area and gold mining towns of the Sierras. As a teenager he worked on a cattle ranch and with his father, a mining engineer, in the gold fields.
He attended Stanford University, the University of Georgia, and received his Masters Degree from Columbia University in New York City. In 1947 he married Haroldine Hart. They were married for 65 years and had 4 children.
Andrew joined the Army as a private in 1942. After attending Officer Candidate School he was commissioned as an Infantry 2nd Lieutenant. He proudly served his country for 33 years, retiring in 1975 as a Colonel. During his military service, he served in Okinawa and China after WWII. He commanded an Arctic Infantry Company in the Territory of Alaska. He was a Russian Foreign Area specialist. He served in the 502 regiment of the 101st Airborne and taught at the JFK Special Warfare School. He served in Thailand with the Military Assistance Group. While there he earned his Thai Jump wings. He also served two tours in Vietnam, in 1963 as a Military Advisor and in 1969 as the head of Psychological Operations. He commanded Support District Sud Bayern in Europe and was the head of the Military Group in Paraguay. His awards and commendations include: WWII VM, ACM, AOM Japan, APCM, VSM, NDSM (one oak leaf), Purple Heart, Legion of Merit (2 oak leaf clusters), Meritorious Service Medal, SR Parachutist Badge, and Combat Infantry Badge.
Upon retirement Andrew and Haroldine settled on the Olympic Peninsula in Sequim, WA.
Andrew went on to serve as a State Representative in the Legislature of Washington State for two sessions. He was also a Port Commissioner in Port Angeles for 12 years.
Andrew was a member of ST Paul's Episcopal Church in Leavenworth, KS. He was a life time member of the American Legion as well as the Washington State Grange. He was a member and past president of the Sequim Rotary and a member of the Leavenworth Rotary Club. He embodied the Rotary motto of "Service Above Self".
Andrew is survived by his wife of 65 years Haroldine Hart Nisbet. Daughter Gwyneth Hawk(Michael) of Leavenworth, KS and sons Andrew Nisbet (Cecilia Eng) of Portland, OR and Kevin Nisbet (Julie) of Fripp Island, S.C. He was predeceased by his son, Phillp Clark Nisbet. Grandchildren Jennifer Davis(Craig), Brooke Plemmons (Paul), Andrew J. Nisbet, Jonathan Z. Nisbet, Kathleen Nisbet, and Abigail Nisbet, Nathanial Nisbet, Aaron Nisbet and Benjamin Nisbet. Great grandchildren Hayden, Abigail and Grace Davis and Julia, Elora, and Pierce Plemmons.
A memorial service will be held Saturday March 9th 2013 at 11:00 am at St. Paul's Episcopal Church. Burial will be at a future date in Arlington National Cemetery. Memorial contributions in his memory may be directed to Rotary Foundation in care of Leavenworth Rotary Club, PO Box 605, Leavenworth, KS 66048. Arrangements entrusted to Davis Funeral Chapel.
Former County Commissioner, longtime Republican, passes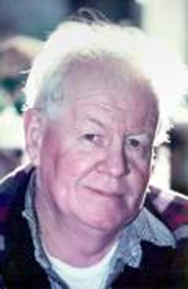 On a sad note, we have lost a great local Republican leader and a gentleman.  Lawrence Gaydeski passed away, and will be missed by his many friends in the Republican Party, as well as his family.  He served as a three-term Republican County Commissioner representing District 3, beginning in 1982, and was known for his straightforward manner and honesty.
Lawrence was well-known for his stand in holding a "no-debt" policy for county government.  He held the line on saving money and not allowing the county to go into debt.  He held high esteem not only in the GOP, but by the people in his District, especially the West end, where he was a logger for approximately 30 years, and raised his family of 6 children on their family farm on the Sol Duc River.
He initially got into politics when the Congress began moving "wild river" legislation forward in the early 1980s.  He fought it, and was fairly successful in holding it at bay.
We will miss Lawrence, always ready with a great smile and words of wisdom.
A memorial service was held at the 110 Business Park Roundhouse in Forks on Dec. 8 at 1 p.m.
To read the PDN story about Lawrence, click here.
---
Our thoughts and prayers go out to the family and friends of long time GOP PCO and activist R.W. (Bob) Robinson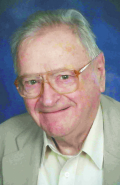 Mr. Robert W. (Bob) Robinson, a longtime resident of Sequim, went home to be with the Lord on Thursday, May 17, 2012.
R.W., as he was affectionately known by his many friends, was born to Clarence Adelbert and Grace Withers Robinson on June 13, 1929, in Port Townsend.
Following his graduation from Sequim High School in 1947, he served in the U.S. Army in Korea from 1951 to 1953. When he returned from active duty, he worked with his father at Robindell Farm in Sequim as a dairy farmer and as a Guernsey cattle breeder. Their stock included a number of prize-winning milk cows.
Since retiring from the farm, Bob has taken part in veteran organizations, grange work and pioneer activities.
He has maintained a wide correspondence with family members located around the U.S. and enjoyed piecing together genealogical records for both sides of his family.
He took great interest in politics and history and enjoyed writing letters to the editor at the Peninsula Daily News. His letters were thought-provoking, and his quick wit and droll sense of humor were refreshing.
Bob was a member of the Peninsula Evangelical Friends Church in Agnew, the American Legion, the Korean War Veterans, the Veterans of Foreign Wars, the Sequim Valley and Pomona granges, the Guernsey Cattle Club and the John Birch Society.
Bob is survived by a brother, Raymond A. Robinson of Sequim; several cousins; and a very large circle of friends.
A celebration of life was held for Bob at the Peninsula Evangelical Friends Church at 1291 North Barr Road in Port Angeles at noon today, Sunday, May 20, 2012.
The family suggests that those who wish may honor Bob with a contribution to their favorite charity.
The Neptune Society was in charge of final arrangements.
Published in The Peninsula Daily News on May 20, 2012
Another celebration of Bob's life was held on June 14, 2012 at the Grange Hall in Sequim.  READ MORE>>>
---
Our greatest sympathy to the family of Ginger Alexander, friend, mentor, and former GOP chair, who passed away on Nov. 16th, 2011.

Ginger passed away in her sleep Wednesday morning, November 16, 2011, of renal failure and other complications with her loving family at her side.
Ginger was born April 17, 1943, in Joliet, Illinois. After graduating from high school, Ginger worked in retail in the Joliet area. On March 6, 1965, she married Don Alexander, whom she met in high school. She continued working in retail and the family business while raising two daughters.
The family moved to Sequim in 1976, making it their permanent home. She and the girls loved exploring their new home, and she delighted in finding an agate, sea urchin, starfish and whatever else she could find. She loved beachcombing and rock hunting.
In 1981, she became involved in museum work and became director of the Clallam County Museum in 1982. She resigned from that post to spend more time with her daughters. After the girls grew a little older, she became involved in the Cultural Arts Center and the Sequim-Dungeness Museum and was responsible in the combining of the Sequim-Dungeness Museum, the art center, and the Dungeness Schoolhouse into one workable group.
She was the director of the Sequim-Dungeness Museum & Arts Center of the Dungeness Valley for a number of years before retiring in order to care for her aging parents.
Over the years, Ginger was also involved in the Clallam County Fair and spent five terms on the Clallam County Fair board. She was a lifetime member of the Sequim Prairie Grange and spent some summers as the director of the Grange Camp and many other activities. Ginger was a member of Trinity United Methodist Church, where she was also a Sunday school teacher. She was also active in the PEO and the Clallam County Republican Party.
After spending about five years full time RVing, she spent the last two-and-a-half years in Sequim to facilitate medical treatment.
She was preceded in death by her parents, Fred and Aileen Feil, and nephew, Michael Feil.
Ginger is survived by her husband of 46 years, Don; daughters Colette and Dawn; five grandchildren; one great-grandchild; and a brother, Mike Feil.
In lieu of flowers, memorials may be made to Volunteer Hospice of Clallam County, 540 East Eighth Street, Port Angeles, WA 98362; and/or the Northwest Kidney Centers, 700 Broadway, Seattle, WA 98122.
A celebration of life was held on Monday, November 21, 2011, at 2 p.m. at Trinity United Methodist Church, 100 Blake Avenue, Sequim.
Published in The Peninsula Daily News on November 20, 2011
---
Our condolences and prayers go out to the family and friends of long time GOP supporter Jay Ketchum – June 16, 1956 – Nov. 11, 2011.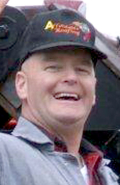 A fourth-generation Port Angeles resident, Jay Edwin Ketchum was born June 16, 1956, to the late Elizabeth (Betty) and Edwin Ketchum. Raised in Agnew and Port Angeles, Jay spent summers with his family at their Lake Crescent cabin.
Many years too early, Jay left this world to be with our Lord on November 11, 2011.
After attending schools in Sequim, Port Angeles and Joyce, Jay began working in the logging industry at age 15. A few years later, Jay enlisted and served in the U.S. Navy, after which he received an honorable discharge.
Upon his return home, Jay returned to his earlier career, logging on both the Olympic Peninsula and in Alaska. In the early 1980s Jay began his career as a businessman, owning and operating several businesses, including Olympic Divers, Brocklesby's, Affordable Roofing, Affordable Cranes and Affordable Services.
On May 26, 1979, Jay married Jane Simpson in North Bend, Washington. During their early years, they resided in Forks and eventually moved back to Port Angeles, then to the Sequim area. Together, they raised their daughter, Jennifer Ketchum-Ames, who was instrumental in helping with her parents' successful business endeavors.
Jay attended Independent Bible Church. He loved water sports and model trains, which he shared with his grandson, and took his granddaughter with him wherever he went. He loved playing with his grandchildren, always making time for them when they would visit.
Jay was well-known in the community for his hard-work ethic and political affiliations; he touched the lives of many people with his generosity.
He will forever be remembered by loving wife, Jane; daughter Jennifer and son-in-law Dennis, and his two beautiful grandchildren Aspen and Hunter, all of Athol, Idaho; his brother, Gene Ketchum, and sisters Stephanie Hilt of Port Angeles and Sarah Jill Schaeffer of Kingston, Washington; along with countless other friends and family who were blessed to know him.
But when all is said and done, he would tell you that none of this matters; the only thing that truly matters is your relationship with Jesus and to be ready for when he calls you home.
Friends and family are invited to attend a celebration of life on Monday, November 28, 2011, at 1 p.m. at Independent Bible Church, 116 East Ahlvers Road, Port Angeles.
In lieu of flowers, the family requests all donations be sent to ChildFund International, 2821 Emerywood Parkway, Richmond, VA 23294, or at www.childfund.org/gifts.
Published in The Peninsula Daily News on November 21, 2011
---
Bob Philpott – a good Republican and a good friend – will be missed.
"Ready, begin!" Bob Philpott was the official leader of the Pledge of Allegiance at the Clallam County Republican Party Central Committee meetings. This is the way he always started it – and everyone would join in with him to start our meeting in the usual way – with a Pledge to the Flag of our great nation. He always attended faithfully when he was in town, and he will be missed by us all. Bob's family is in our thoughts and prayers.
_________
Robert "Bob" Philpott ( December 7, 1934 – June 9, 2011 )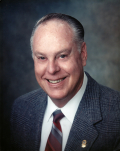 Robert "Bob" Philpott passed away peacefully at 4 a.m. on Thursday, June 9, 2011, after spending Wednesday with family and friends, saying goodbye.
He spent the last year valiantly battling melanoma cancer with an upbeat attitude and his usual good humor. He will be greatly missed by his family and friends.
Bob was born in Santa Monica, California, on December 7, 1934, to Robert J. Philpott and Harriet M. (Collett) Philpott.
Bob graduated from Washington High School in Los Angeles in December 1952. He then attended Los Angeles City College.
He enlisted in the Naval Reserve in June 1953 and served for 6 years. He was discharged in June 1961 with the rank of Petty Officer 3rd Class.
He married Jean Tesarek in 1954 and they divorced in 1966. He then married Carol J. Stolley in March of 1966.
His first job was with Cummins Motor Company. He then worked for 20 years as a design engineer in many aerospace companies.
He got his California real estate license in 1973 and sold limited partnerships.
He moved to Port Angeles in July of 1974 with his family. He was active in the real estate business in Port Angeles for the next 25 years.
Bob was an active volunteer both in his Lions Club and the community.
He had 36 years of perfect attendance in the Port Angeles Lions Club as well as holding many leadership roles in the club.
He also served on the Port Angeles Planning Commission for 13 years. He served on the Clallam County Board of Equalization for 3 years. He also served on many committees in his church.
He and his wife Carol loved to travel and take RV trips. They have many fond memories of the trips with friends. They have traveled to Hawaii, England and Scotland, Denmark and across the USA. They belonged to an RV club which takes many trips in Washington state.
Bob is survived by his wife, Carol, of 45 years; son Steven Philpott of Matlock, Washington; daughter and son-in-law Laurie J. and Michael W. Reader; and four grandchildren, Daniel Reader, Michelle Reader, Matthew Reader and Melynda Philpott; also, four great-grandsons, Dominic and Liam Reader, Cody Reid and Izaak Hindman.
A celebration of his life was held Friday, June 17, 2011, at the First United Methodist Church of Port Angeles, 110 East Seventh Street, at 11 a.m.
Memorial contributions may be made to Volunteer Hospice of Port Angeles, 540 East Eighth Street, Port Angeles, WA 98362, Olympic Lions Foundation, c/o Port Angeles Lions Club, P.O. Box 466, Port Angeles, WA 98362; or the First United Methodist Church, 110 East Seventh Street, Port Angeles WA 98362.
We'll miss his wit, his wisdom, his participation, and hearing him start the Pledge of Allegiance with, "Ready, begin!"
(Published in The Peninsula Daily News on June 14, 2011)
---
G. Wayne Van Winkle
May 20, 1915 – November 13, 2010

G. Wayne Van Winkle, 95, of Sequim passed away on November 13, 2010, at Sequim Health & Rehabilitation.
He was born on May 20, 1915, in Avon, Illinois, to George and Gladys (Cafferty) Van Winkle.
He married Dorothy Arminta Zinn on August 28, 1942, in Seattle, Washington.
Mr. Van Winkle earned his B.S. in Mechanical Engineering from University of Washington in 1944. He was employed as an Engineer at Boeing from 1944-1985, living in Seattle and Bellevue, Washington, until moving to Sequim in 1999.
Mr. Van Winkle was a member of Sequim Bible Church. He served many years as an elected Precinct Committee Officer (PCO) for the Clallam County Republican Party.
He is survived by his wife, Dorothy A. Van Winkle; sons and daughter-in-law, David and Mary Lou Van Winkle and Frank Martin; daughter and son-in-law, Donna Van Winkle and Peter Charvat; sisters, Martha Cousins, Margaret Seasly and Edith Spence; grandchildren, Edith and Helena Van Winkle, Emma and Anthony Charvat.
A memorial service was held at Sequim Bible Church, 847 North Sequim Avenue, on Saturday, November 27, 2010, at 2 p.m.
We'll miss his twinkly eyes and great smile, as well as all the wisdom he brought to the Party.
---
Lou Huber
PCO and GOP Party activist Lou Huber passed away toward the end of 2009.
Lou also has served as Parliamentarian for the county convention, and was a valuable asset to the Party in addition to being a good friend to many of us. We will miss him!
____________________________________________________________
Fred Norton 1931 – 2007
Charlotte Norton pre-deceased Fred.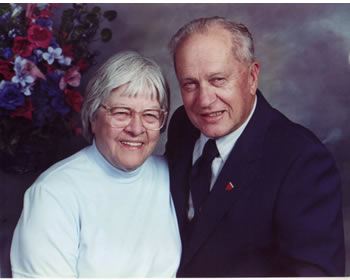 Fred was serving as chair of the CCRP when he underwent surgery and subsequently passed away. Fred was a hard worker and cared about promoting Constitutional ideals to our government.
Charlotte Norton was very active in the local Party and the Republican Women's organization.
Fred Norton passed on July 25, 2007 at 5:30 p.m. He was a good man and did a great job as Chair of the Clallam County Republican Party. We shall miss him greatly! Our thoughts and prayers go out to Fred's family as they go through the grieving process. A Celebration of Fred's life was held on August 5 at the Sequim Senior Center at 10 a.m. during the regular service of his church.
The newspaper account can be read here.
In Memorium from St. Anselm's Parish in Sequim
---
Johann Samlowski
Our friend and co-worker in the GOP, Johann Samlowski, passed away on April 11, 2008. Johann was very actively involved with the work of the Party, and served as secretary for both the Central Committee meetings and the county convention, as well as many other activities. We'll miss you, Johann!
---
Madeline Lang
from Donna Buck, former Chair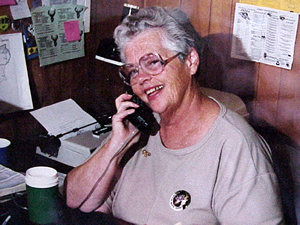 July 11, 2008 – It was with sadness to hear of the death of Madeline Perry Lang on July 7th.  In the early 1990's we did not have an office for CCRP and used a rented appartment on Liberty Street at the Jim Buck headquarters which also served as the central place for CCRP members.  Madeline was the main office manager for about six of those years.  She and her husband, Bunk, were very active in the Clallam County Republican Party at that time.  After Richard "Bunk" Lang passed away, Madeline became very active at the PA Senior Center.
OUR LOCATION
Clallam County Republican
Party Headquarters
509 S. Lincoln Street
Port Angeles, WA 98362
(Send mail to: P. O. Box 808
Port Angeles, WA 98362)
(360) 417-3035
SIGN UP FOR OUR NEWSLETTER
Click Here