Welcome to the Clallam County GOP!
Senate majority reacts to report detailing economic impact of Hirst
Posted Sept. 14, 2017
Water-rights decision could have disastrous consequences for Washington families, workers
OLYMPIA…The Senate Majority Coalition Caucus shared the following statement in response to a report released today by the Building Industry Association of Washington (BIAW) detailing the statewide economic impact of the Hirst water-rights decision.
Some of the details revealed in the study include:
$6.9 billion lost in economic activity each year in Washington, predominantly in rural communities
$452.3 million in lost employee wages due to the impacts of Hirst, annually
Nearly 9,300 lost jobs (FTEs) in rural Washington, annually
$392.7 million in lost taxes to state and local governments, annually
$4.59 billion in losses to the construction industry, annually
$37 billion in lost property values in areas impacted by Hirst
$346 million in property taxes shifted to other properties in Washington
Venezuela politics can be disastrous for U.S., says speaker
The Clallam County Republican Party's quarterly Dinner Meeting, held at Joshua's Restaurant in Port Angeles on Sept. 12, 2017 featured guest speaker will be Helena Paneyko from Venezuela. She shared Venezuela, its situation, how we got there (a little bit of recent history), statistics, who is there now and why it is a real threat to the United States. To read the full report, subscribe to the GOP Newsletter.
Our fair booth brought great response
The Clallam County Republican Party's quarterly Dinner Meeting, held at Joshua's Restaurant in Port Angeles on Sept. 12, 2017 featured guest speaker will be Helena Paneyko from Venezuela. She shared Venezuela, its situation, how we got there (a little bit of recent history), statistics, who is there now and why it is a real threat to the United States. To read the full report, subscribe to the GOP Newsletter.
The Republican Booth at the 2017 Clallam County Fair was a resounding success. Two themes filled the booth, The GOP Celebrates 2016 Elections & President Trump's Accomplishments in his first 200 Days. 18 X 24 signs heralded Trump successes in several policy areas, including the Courts, Energy, Immigration, Economy, Foreign Policy and Trade Policy.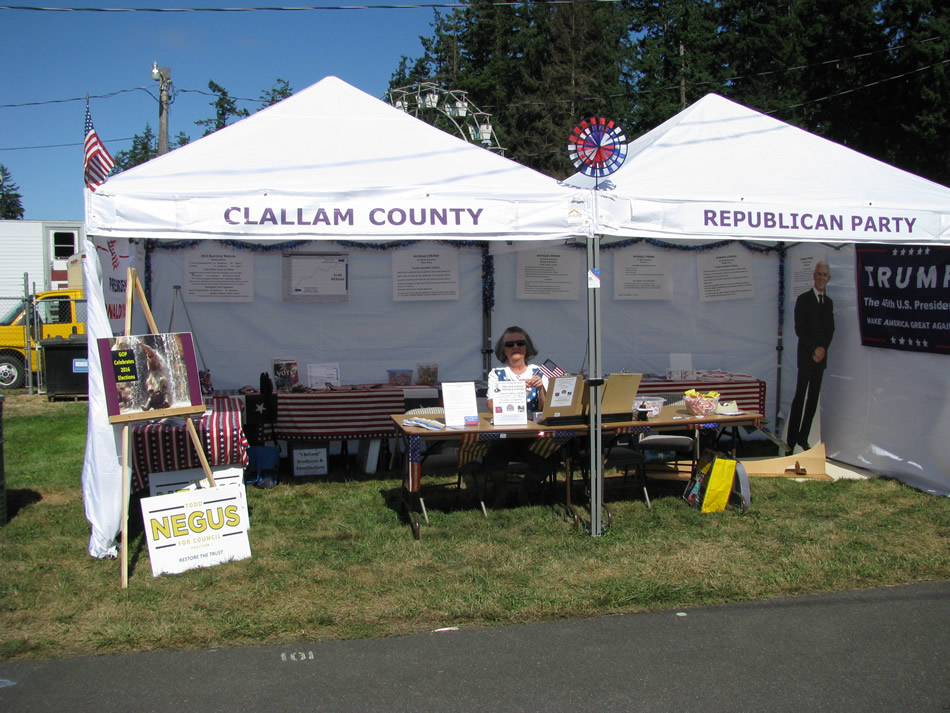 For a fun and educational way to celebrate the 4th, check out the 4th of July Declaration by Dennis Prager. CLICK HERE.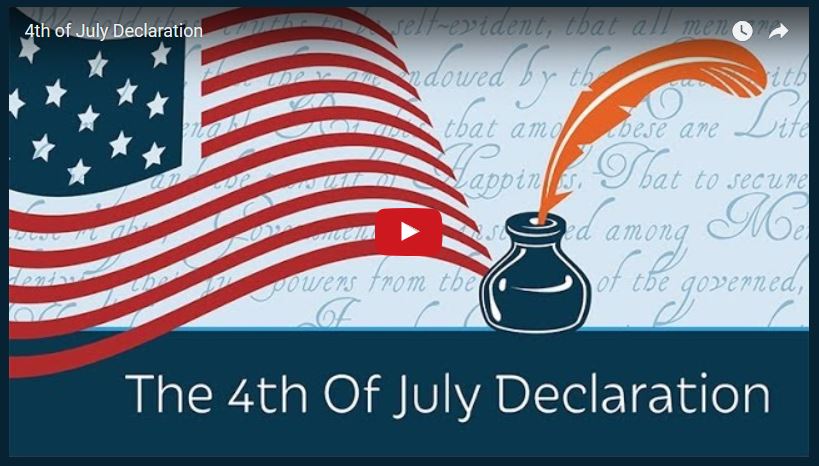 ---
Memorial Day Tribute –
We Will Not Forget Your Sacrifice
---
---
Speaker meeting enlightening about Communism
Maria Malkasian, raised in Romania during the communist regime of Nicolae Ceausescu, shared her experiences about living in a Communist country with us on May 8 at Kokopelli's in Port Angeles. It was very enlightening to hear about the loss of freedom and food shortages, as well as the heavy hand of a dictatorial communist government over the lives of the people. READ HER STORY HERE >>>
---
An excellent video about Global Warming / Climate Change and Carbon Dioxide and Why We Don't Need a "Carbon Tax":
The Clallam County Republicans
celebrated Our New President
at our
2017 Lincoln Day Dinner
March 25, 2017
It was a great success!
---
Marv Chastain, champion of Elwha Dams, passes
Marv Chastain has been actively involved with fighting the good fight for many, many years in Clallam County. He started REAL – Rescue Elwha Area Lakes – to try and stop the destruction of the Elwha Dams and save the abundant wildlife including Trumpeteer Swans at the same time. Since then, he has been active with many conservative issues. Marv had a stroke on March 9, and passed away on March 20, 2017. Our sympathies go out to his wife Jolene, and his family. We will miss him!
Dan Perry, long-time Sequim resident, passes
Dan Perry, loving husband of Lois Perry who has been active as a PCO for many years, passed away suddenly on March 9, 2017. There will be a memorial service held for him at Sequim Worship Center on April 15th. Dan was a strong Republican, a good husband and father, and excellent friend. We will miss him greatly.
Long-time Republican Aloma Blaylock passes
Aloma Jo Blaylock died of natural causes at her Port Angeles home. She was 73. She was very active in Republican Women for many years, and a past president. Memorial services were held on Saturday, Feb. 11, at First Presbyterian Church, 139 W. Eighth St., Port Angeles. We will miss Aloma's presence and great smile.
---
Information about school-based health clinics, education issues. Follow our Blog.
_________________________________________________________________
We Support Our President
Donald J. Trump.

---
The Washington State Legislature
is now in session.
For the current bills in progress, click here. Be sure to email, call, write or appear in person to testify and/or let your stand be heard on some of these issues. 2017 Bills Currently in Progress – WA State Legislature
The CCRP has a new board!

On Monday, December 12, 2016, the Central Committee held its organization meeting and elected a new Board for 2016-2018. Elected as chair is Matthew Rainwater; vice-chair, Virginia "Jindy" O'Donnell; State Committeeman, Donnie Hall; and State Committeewoman, Sue Forde. Three board members were also elected: from District 1, Jim McEntire; from District 2, Brian Feller; and from District 3, Penney Sanders. The treasurer is Kaj Ahlburg, secretary, Martha Ireland, and appointed board members are Pete Heisel (District 1) and Jim Preston (District 2), and former chair Dick Pilling.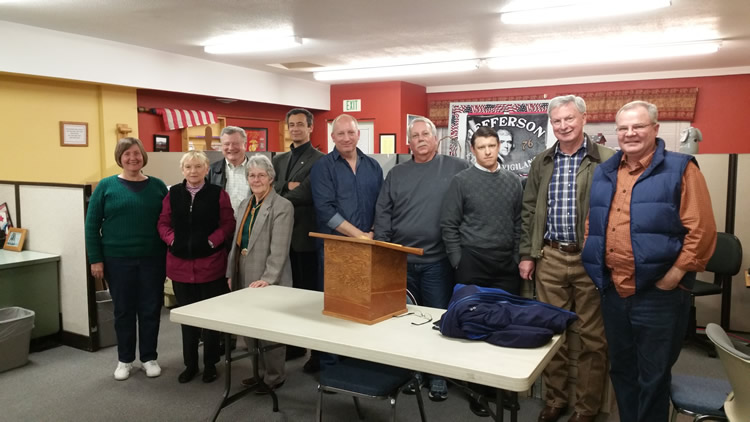 The next Central Committee meeting will be held on Jan. 9, 2017 at 6:30 p.m. at CCRP Headquarters.
Congratulations to our newly elected President and Vice President, Donald Trump and Mike Pence!
As the Trump Team begins the transition process, they are making it transparent to the American people, and also asking for suggestions from us! (How different and refreshing is this!!). Here is the website for the transition team, so you can follow what they are doing, get educated about the process, and make any suggestions: www.greatagain.gov.

Watch President-Elect Trump's acceptance speech below:
Follow President-Elect Trumps' picks for cabinet and other posts here:
https://www.frcaction.org/insider2
---
THANK YOU TO ALL WHO STOOD UP AND RAN FOR PUBLIC OFFICE!
It's an expensive and time-consuming adventure to run a campaign. We wish to express our appreciation to all who ran for public office.
---
Donald J. Trump received the majority of Electoral votes required to become president.
At our State Convention, we elected "Electors" to the Electoral College. Our congressional district's elector is Susan Shotthafer.
The electors will actually cast the ballot for the final president. An excellent explanation of the Electoral College is below.
Do you understand the Electoral College? Do you understand what the Electoral College is? Or how it works? Or why America uses it to elect its presidents instead of just using a straight popular vote? Author, lawyer and Electoral College expert Tara Ross does, and she explains that to understand the Electoral College is to understand American democracy.
---
There's a well-organized, below-the-radar effort to render the Electoral College effectively useless. It's called the National Popular Vote, and it would turn our presidential elections into a majority-rule affair. Would this be good or bad? Author, lawyer, and Electoral College expert Tara Ross explains.
---
Jim Carey passes
We offer our condolences to the family of Jim Carey, long time PCO and Republican activist, who passed away recently. He will be missed.
---
3rd Annual Fall Roundup features candidates, good food and entertainment
(Photos by Gayla Heisel)
The Clallam County Republicans held their 3rd Annual Fall Event, The Fall Round Up, on September 17, 2016, from 3-7 pm at the Home Arts Building at the Clallam County Fairgrounds located at 1608 W 16th Street, Port Angeles.
Bill Bryant, Republican candidate for governor and Chris Vance, running for U. S. Senate, were the main speakers.
GOP Chair Dick Pilling emceed the event, and introduced various candidates running in the November Election for Clallam County and Washington State offices. READ MORE >>>
---
Photos from the Republican Booth at the Clallam County Fair held Aug. 18-21st, 2016.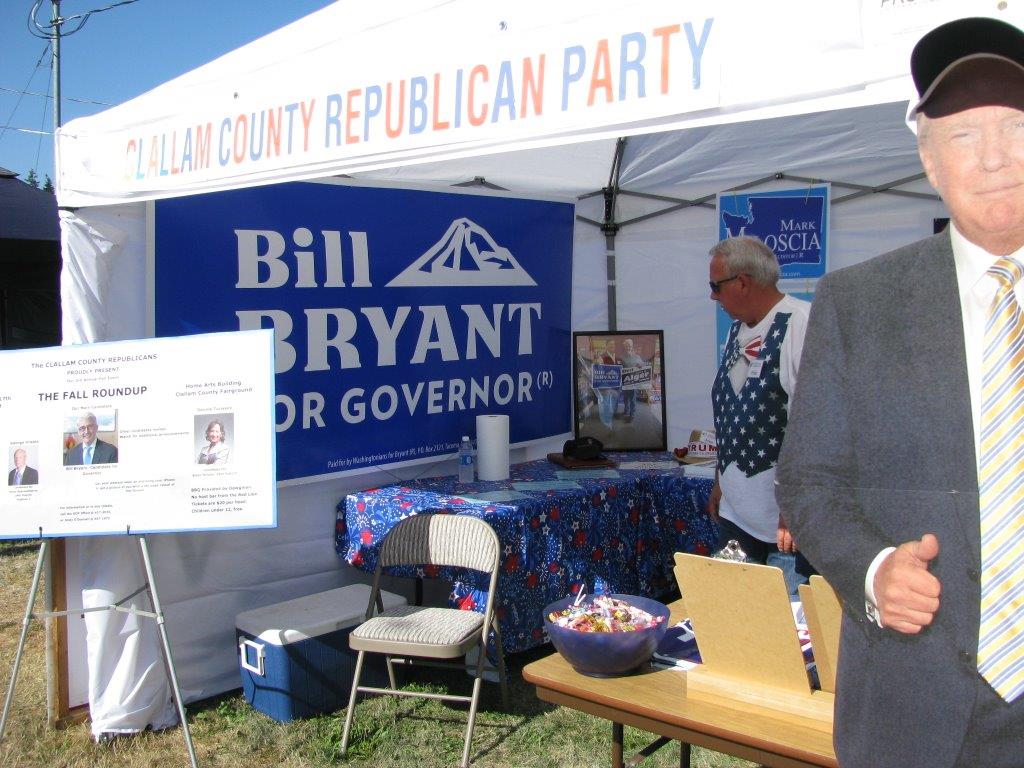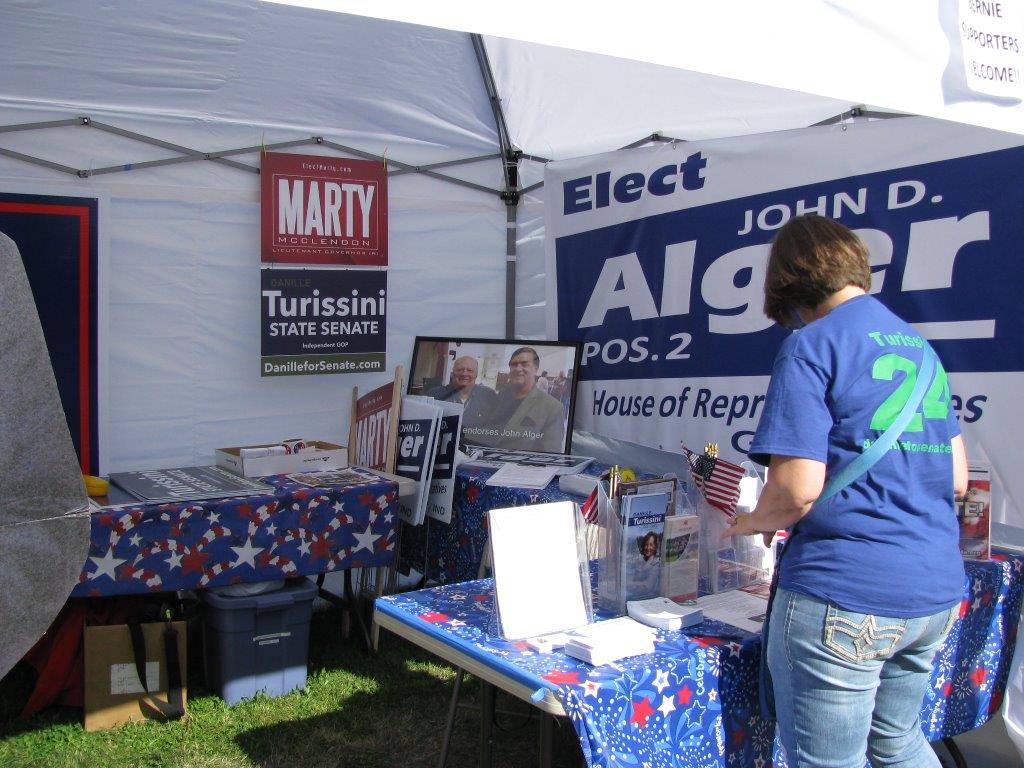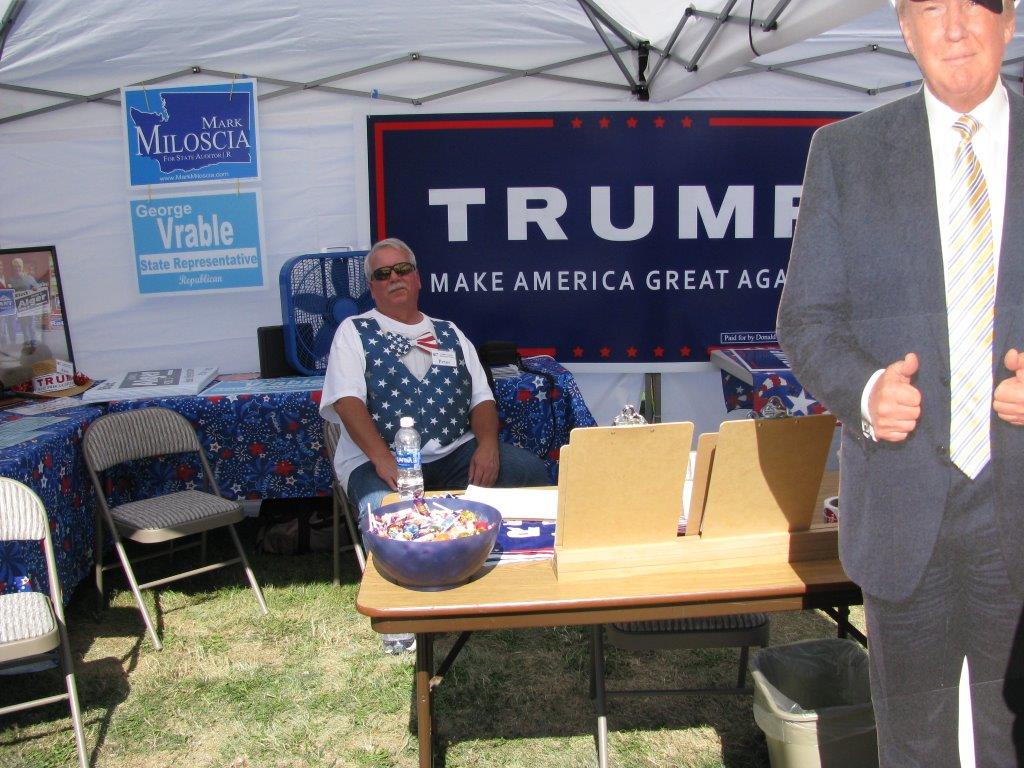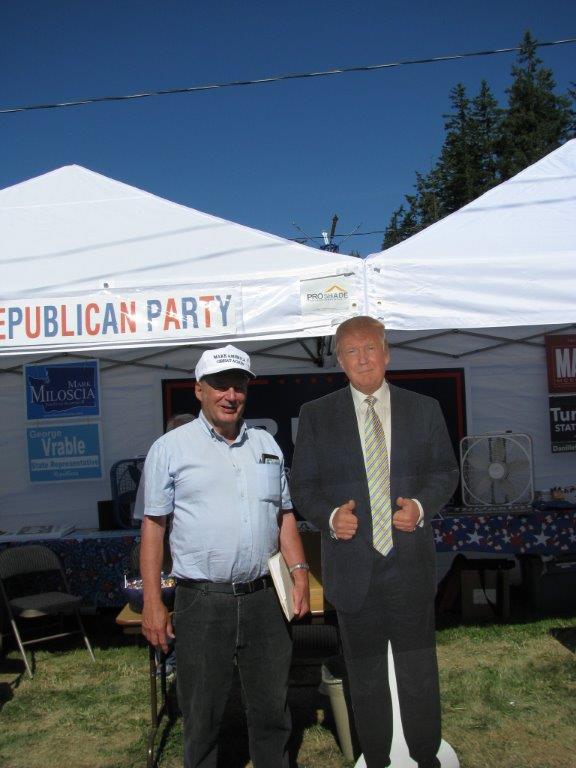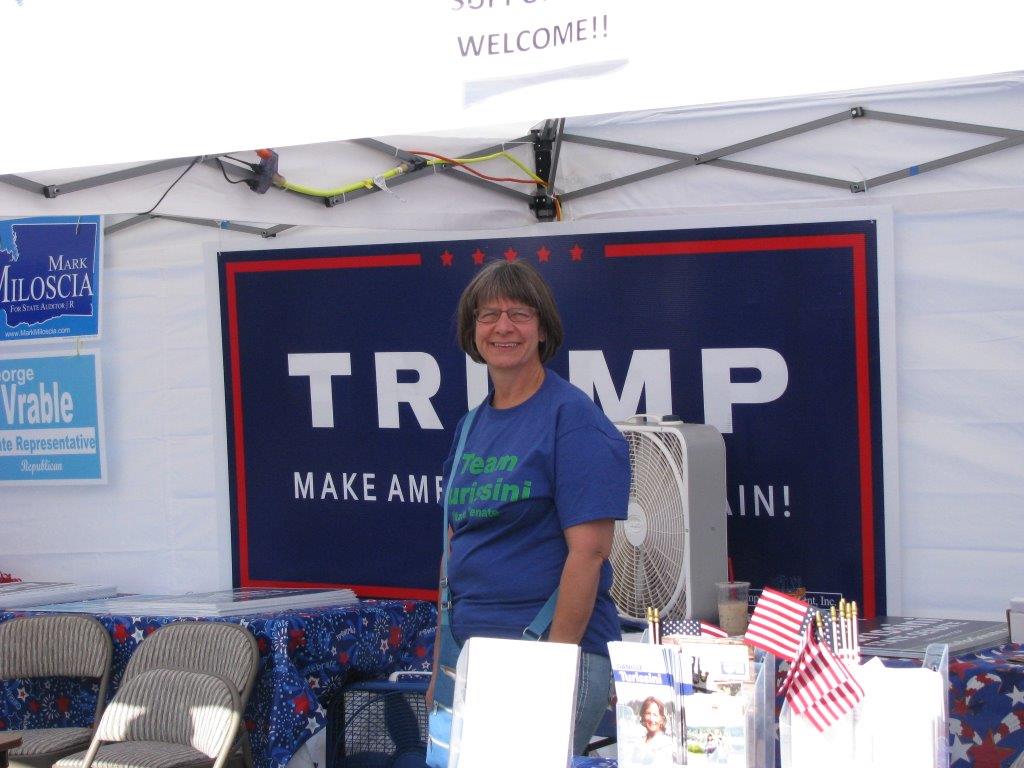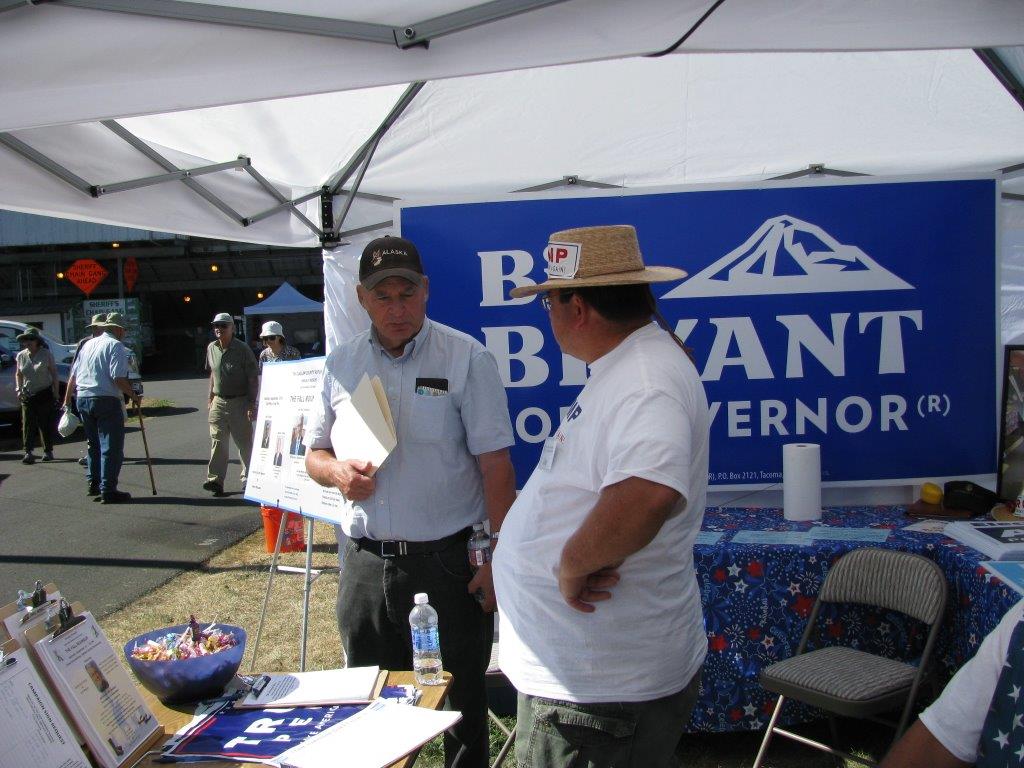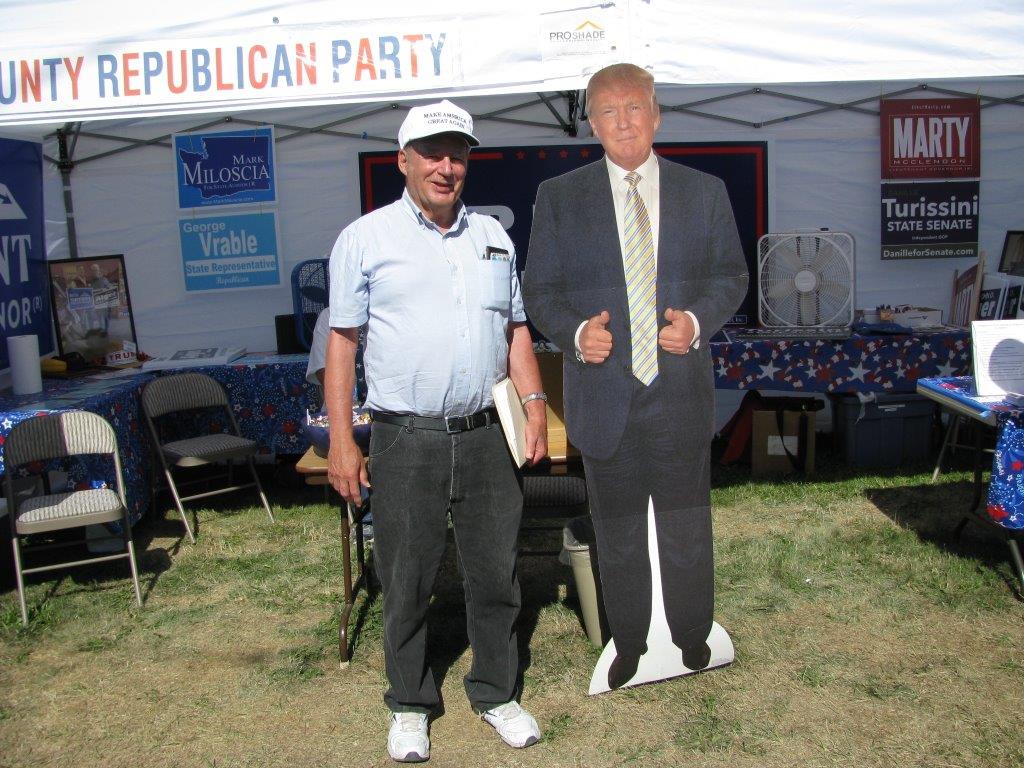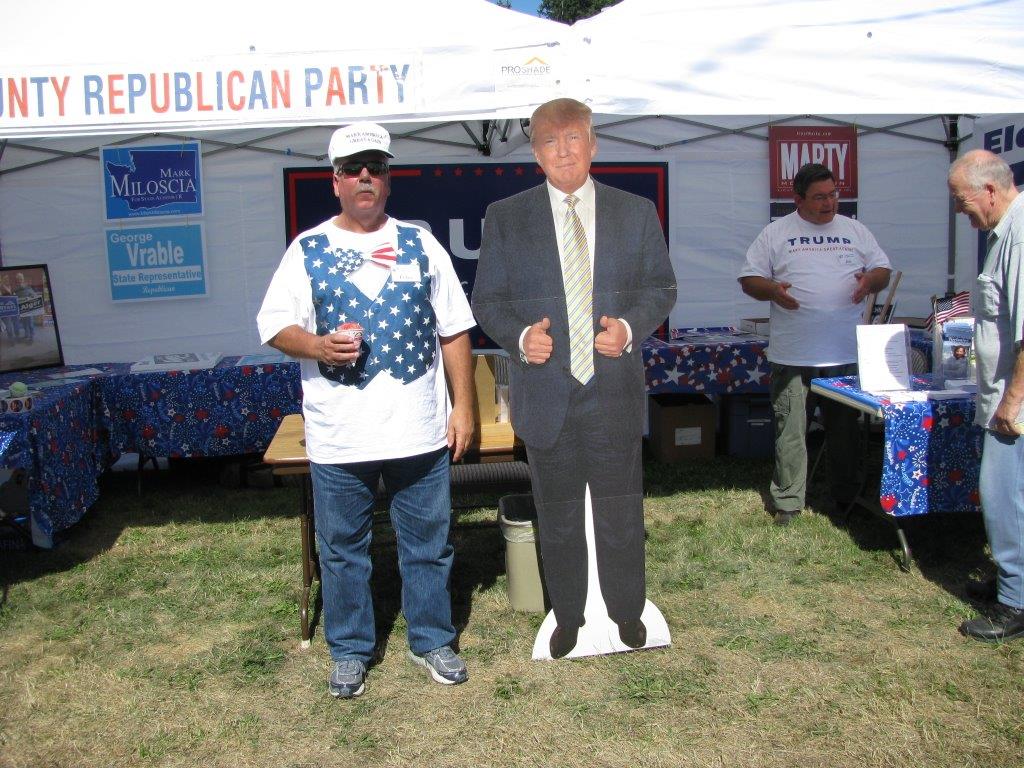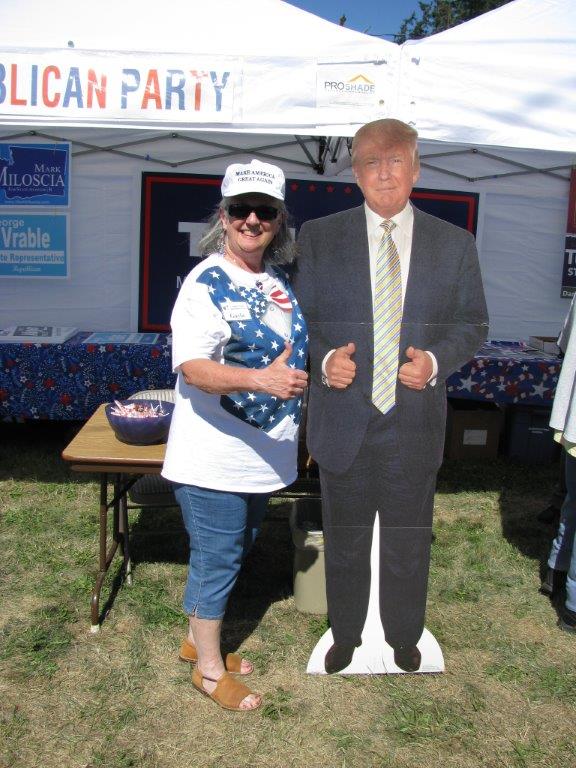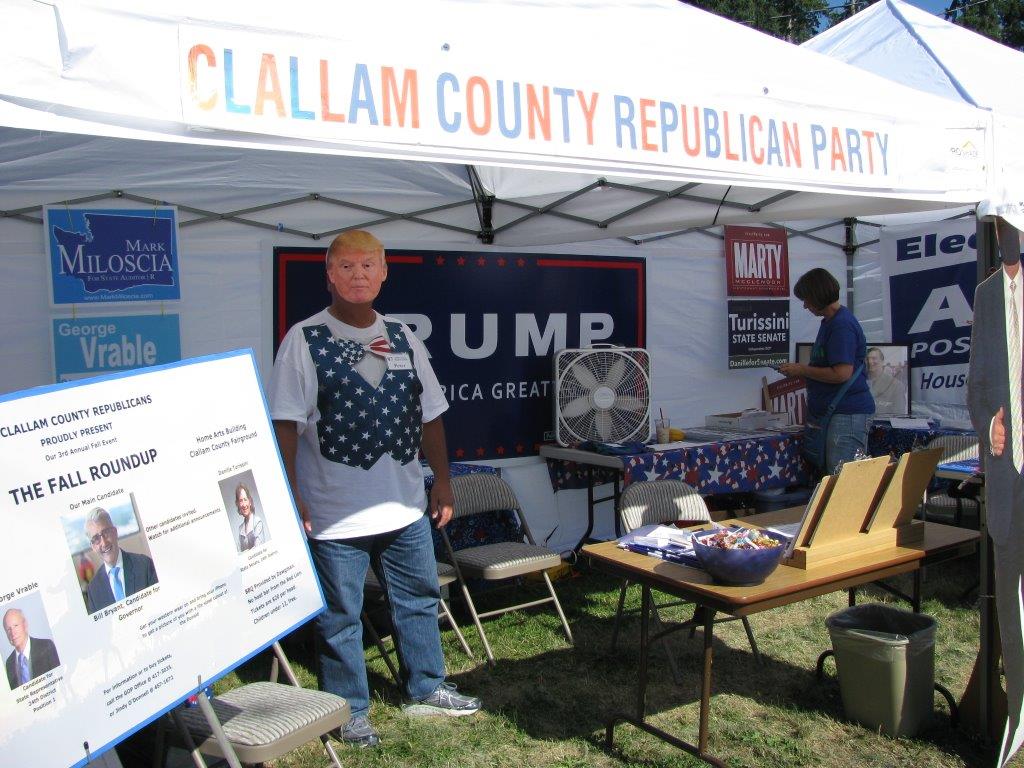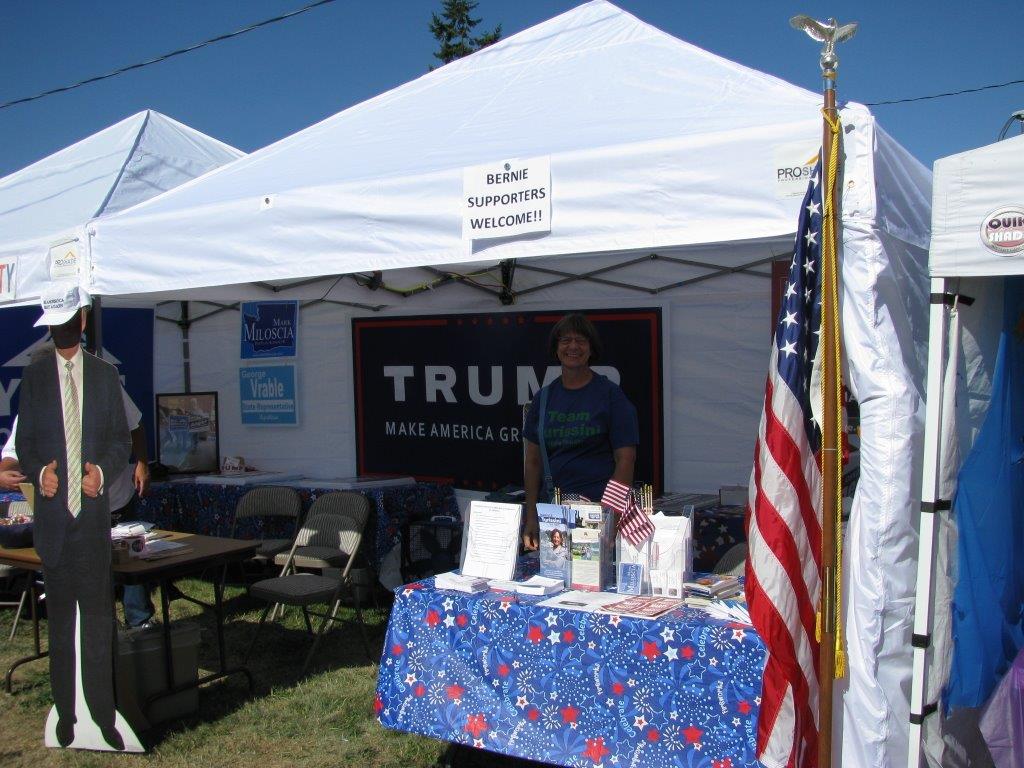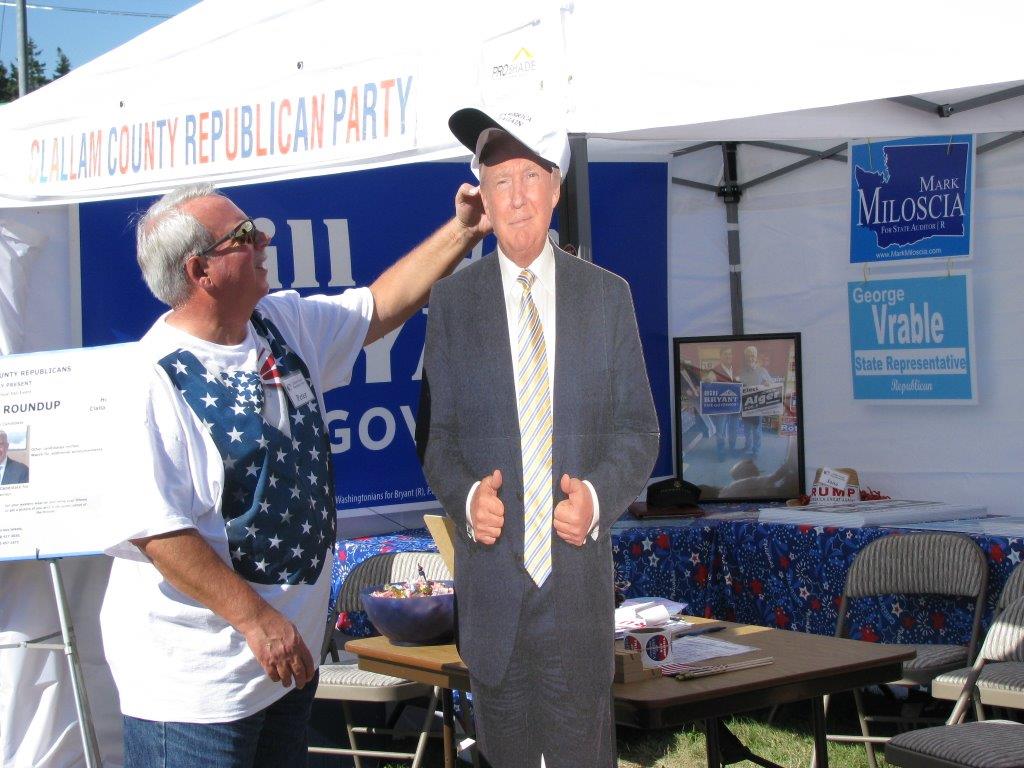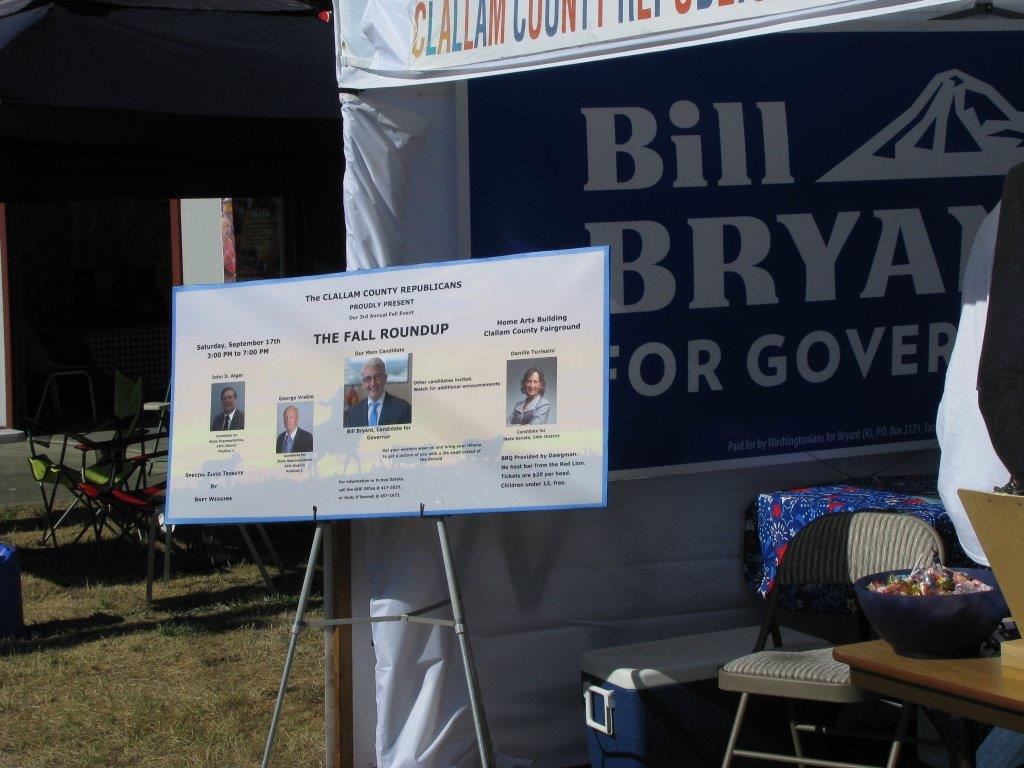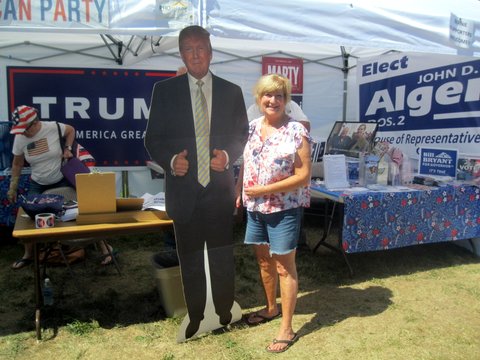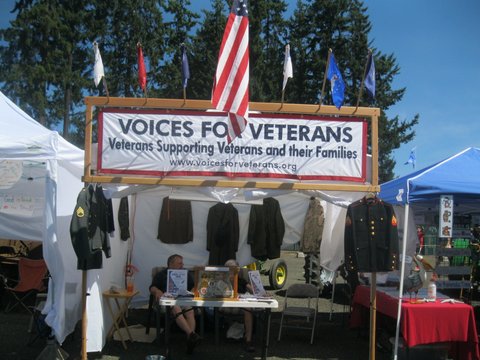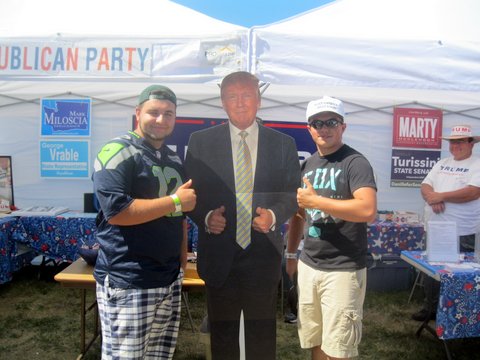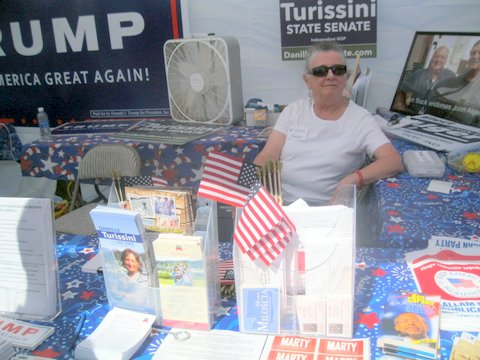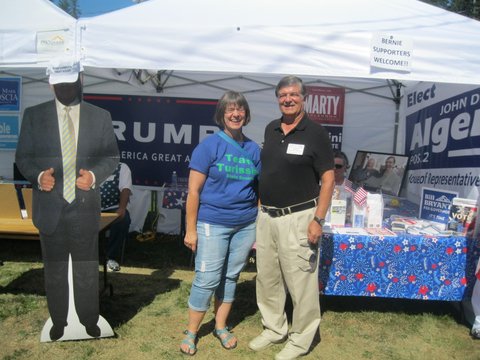 ---
The Timber Issue – For some time, there has been concern and discussion over the "arrearage" (shortfall of timber that was agreed upon to be cut by the State Department of Natural Resources [DNR] on county-owned timber land, and wasn't) in Clallam County, and whether the county should take over management of the timber land. The last Home Rule Charter Commission set up a committee to discuss whether it should be brought to the ballot. Serving on the committee were Glenn Wiggins, Rod Fleck, Sue Forde, Maggie Roth, Connie Beauvais and Mike Doherty. The result was to forward the discussion to the county commissioners with a request that they form a commission to study the issue further (which happened, and that commission is still in session). Now, a White Paper has been issued by the PABA (Port Angeles Business Association), authored by Jim McEntire, Phil Kitchen and Harry Bell, entitled White Paper on The Department of Natural Resources' Trust Obligations to Counties and Their Taxing Districts. You can read it here: PABA White Paper – Trust Beneficiary Expectations. In response, Peter Goldman of the Washington Forest Law Center (environmentalist), has written his own "white paper" in response. You can read it here: Washington Forest Law Center. We'll continue to bring updates on this important issue. Timber revenues from county-owned trust lands have historically funded schools, fire districts, libraries and more. Without the timber revenues coming in, more taxes are required from property owners to maintain these public facilities and services.
---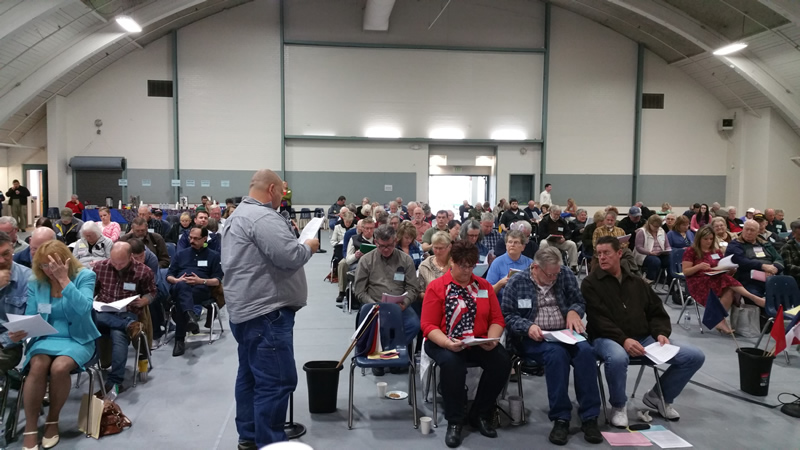 The Work of the County Convention is finished –
and we have a new Platform and Resolutions.

Read them here:
FINAL APPROVED CCRP County Platform 2016
CCRP County Platform 2016 -PASSED resolutions, 3.26.2016
Watch for your GOP newsletter for more information about this. Not getting our newsletter? Sign up here:
Would you like to become involved in the Republican Party? Contact us here: info@clallamrepublicans.org and let us know! We look forward to having you join us!
---
---
---
Call your Senators and Representative and ask the question….
Why are you exempted from The Affordable Healthcare Act aka Obamacare, and why do the taxpayers fund 72% of your healthcare premiums?
U.S. Capitol Switchboard – Tel. 202-456-1414
U.S. Senator Maria Cantwell – Write: 717 Hart Senate Office Bldg., Wash. D.C. 20510 – Tel. (202) 224-3441 or Seattle 206-220-6400 – Fax (202) 228-0514
U.S. Senator Patty Murray – Write: 173 Russell Senate Bldg., Wash. D.C. 20510 – Tel. (202) 224-2621 or Seattle 206-553-5545 – Fax (202) 224-0238
6th CONGRESSIONAL DIST. – U.S. Rep. Derek Kilmer – Write: 1429 Longworth House Office Building, Washington, DC 20515 – Tel. (202)-225-5916
---
"Democracy is two wolves and a lamb voting on what to have for lunch. Liberty is a well-armed lamb contesting the vote." -B.Franklin,1759
---
College Republicans – Join or start up a club at your college. Go to: http://www.wacollegerepublicans.org/
---
"The Declaration and the Constitution"
Hillsdale College offers FREE classes on the Constitution. Here's one:
In this first lecture from the "Introduction to the Constitution" series, Hillsdale College President Larry P. Arnn argues that the American republic's meaning and proper method of operation is found in two documents, the Declaration of Independence and the Constitution. He introduces the two main principles of the Declaration–Nature and Equality–and explains how they are key to understanding the arrangements of government found in the Constitution.Watch this Lecture
---
An excellent short argument about gun control.
---
STATE LEGISLATURE: Washington State Legislature – click here for contact information to reach our legislators, as well as to keep up to speed on current legislation.
Check on the
Washington State Legislature: www.leg.wa.gov/pages/home.aspx
Rosters
(List of legislators, their committees, districts, counties, and legislative assistants)
Legislator E-mail Services
(Forms to e-mail individual members)
Caucus Home Pages
(In-depth information about each legislator)
Legislative Hotline: 1.800.562.6000
---
An interesting perspective…
News media would have the country believe that this past general election was a "mandate". But, was it? For an interesting perspective, take a look at the election returns BY COUNTY: (Blue=Dem; Red = GOP) (Click on map for larger view)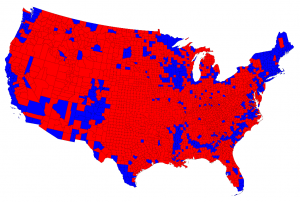 Pretty interesting, isn't it? (from Maps of the 2012 US presidential election results)
---
---
For the voting record and / or responses to questions about issues from the candidates, visit (click on graphic):

Be sure to check out the latest in our GOP Commentary section!
---
Your water rights may be affected – read on…
A newly formed organization, Olympic Resource Protection Council, is currently raising funds for a lawsuit against the Dept. of Ecology's new water rules – which extremely limit what a household can use in the way of water, and in some areas, no new water will be "allowed". See their website at: www.olympicresourcepc.org.
UPDATE – Dec. 2012: The "Rule" was passed and went into effect on Jan. 2, 2013. Marguerite Glover wrote an op/ed about the issue, which helps to see how people will be adversely affected: New "Water 'Management' Rule" by WA State Dept. of Ecology a "travesty"
A current issue concerns metering of wells and water "rules" by the State Department of Ecology. Marguerite Glover has been involved with the water issues in the Sequim-Dungeness area for many years, and has set up a website to help educate folks about the matter. Click here – www.sequimwater.com and get up-to-speed with what is happening in this area.
A postcard was mailed out to residents in the Sequim area, which bears repeating. It states:
"The Washington Department of Ecology's Dungeness Water Rule, being proposed in May 2012 and taking effect in August 2012, may affect you as a property owner. Washington REALTORS and the Sequìm Association of REALTORS want to keep you informed.
VACANT LAND AND UNUSED WELLS
Development of vacant land will be subject to the rule, even parcels purchased or subdivided years ago. The rule prohibits new water rights and exempt wells unless mitigation is purchased, and requires metering and reporting of new water uses. The rule will also impact wells that are already drilled if water from the well has not yet been used For domestic purposes.
EXISTING PRIVATE WELLS & SMALL WATER SYSTEMS
Existing private wells may be subject to the new rule, if the uses of the well are modified to add additional residences or new types of water use at existing residences.
COUNTY BUILDING PERMIT DECISIONS
Will require determination by the County of whether the project complies with the Washington Department of Ecology' water rule before a building permit can be approved.
---
State Budget
For a good run-down of the state budget recently passed by our lawmakers, go here: http://www.myfreedomfoundation.com/ and click on "A Closer Look at the State Budget Deal."
---

Remember Those Who Serve…