County Government
Clallam County Home Rule Charter (Our County "Constitution")
Clallam County is one of only 7 (Clark County just became the 7th on Nov. 5th, 2014)  in the state of Washington designated as a "Home Rule" charter county.
The Home Rule Charter form of government, created by the people of Clallam County in 1976,  is one that brings county government closest to the people's wishes.
By definition, the Charter is a "county constitution" designed to give the control of county affairs to the people of the county rather than requiring legislation from Olympia. It provides for increased local control over our government and increased local involvement in that government by its citizens.
Among other things, the Charter keeps Assessor, Auditor, Director of the Department of Community Development (only one in the nation), Sheriff, Treasurer, Prosecuting Attorney, and Judges of the Superior and District Courts as elected – rather than appointed – officials. It outlines their powers and duties; and notes that Prosecuting Attorney will serve as ex-officio coroner. It also provides for the number of county commissioners and how they are elected (as of 2017, the three county commissioners are elected from each of their districts.
The Charter provides for the powers of initiative, referendum, mini-initiative and recall.
Every 5 years, 15 citizens are elected across the county to review and suggest changes to the citizens to vote upon (changed from every 5 years in 2007).
You can read the Charter here: 2015 Clallam County Home Rule Charter
 The Board of County Commissioners
The Board of Commissioners meets in Room 160 at 10 a.m. on Tuesdays. Citizens are invited to attend these meetings and participate by presenting an issue or concern or by speaking during a public hearing. For information concerning meeting procedures, contact the Clerk of the Board in the Commissioners' Office. Occasionally, the Commissioners may recess to an Executive Session that is closed to the public. During these Sessions, the Commissioners are restricted by law to only discuss limited items of business, such as personnel matters, property acquisition and disposition issues, and legal advice related to litigation.
The public is also invited to observe the Board's work sessions regularly held on Mondays beginning at 9 a.m. If the Monday is a holiday, the session is held on Tuesday beginning at 9 a.m. or 8:30 a.m. depending on the number of items. These meetings are designed to brief the Commissioners to make decisions on local issues. Occasionally, an outside expert or a representative from another agency may present information to the Board. Public comment is not typically taken during work sessions.
Agendas and packets for the work session and regular meeting are posted to the web on the Thursday evening prior to the next scheduled meetings. The regular meeting agenda contains a calendar listing meetings or events where two or more Commissioners may be present.
There will be a videotape available of the regular meetings.
Clallam County Commissioners
commissioners@co.clallam.wa.us
223 East 4th Street, Suite 4
Port Angeles, Washington 98362-3000
(360) 417.2233 (Courthouse) / (360) 417.2493 (FAX)
County Courthouse Website: www.clallam.net
County Government – Regional & Local
Our Elected Representatives in Olympia
How Our Legislature Works
The legislative session begins annually on the second Monday in January. In odd-numbered years, when the state budget is debated, the state legislature meets for 105 days, and in even-numbered years for 60 days.
The governor of Washington, if necessary, may call legislators in for a special session for a 30-day period at any time in the year. Legislators also may call themselves into special session by a two-thirds vote by both the House of Representatives and the Senate.
Click here for an overview and excellent information about what's happening and where to locate information: http://leg.wa.gov/
Legislative information Center (Bill Room): 360-786-7573 – www.leg.wa.gov
Legislative Hotline: 800-562-6000
During session: 8 a.m. to 8 p.m. M-F
During interim: 8 a.m. to 5 p.m. M-F
Chief Clerk of the House: 360-786-7750
Secretary of the Senate: 360-786-7550
Governor's Office: 360-902-4111
State agencies: www.access.wa.gov
How to Reach Our President
President Donald J. Trump
Message Phone (202) 456-1414
The White House
1600 Pennsylvania Avenue NW
Washington, DC 20500
Comments: 202-456-1111
Switchboard: 202-456-1414
FAX: 202-456-2461
Website: http://www.whitehouse.gov/
Contact the White House with your thoughts
https://www.whitehouse.gov/contact
U.S. Capitol Switchboard
Tel. (202) 224-3121

U. S. Congress
U. S. HOUSE OF REPRESENTATIVES
(6th Congressional District)
U.S. Representative Derek Kilmer (D)
1429 Longworth House Office Building
Washington, DC 20515
phone: 202-225-5916
hours: M-F 9-5:30pm
http://kilmer.house.gov/contact/offices
TACOMA DISTRICT OFFICE
950 Pacific Avenue
Suite 1230
Tacoma, WA 98402
Hours: 9:00am – 5:00pm, (PST)  M-F
Bremerton District Office
345 6th Street
Suite 500
Bremerton, WA 98337
(360) 373-9725
Hours: 9:00am – 5:00pm (PST), M-F
Find out what's happening in Congress
http://www.congress.org/congressorg/home/
A Call to Action
We need YOU to make your voice heard in Washington, D.C. even if your Congressman and Senators are Democrats!
Don't be dissuaded by the mean spirited, anti-Trump, emotional grandstanding of the left. Remember that your elected leaders represent their entire constituency –regardless of party. 
Call or email them today with YOUR opinions on tax reform, healthcare, gun control, or any other issue that needs common sense action.
They need to hear from YOU!
U.S. Senator Patty Murray — (202) 224-2621
U.S. Senator Maria Cantwell — (202) 224-3441
Congressman Derek Kilmer (WA-6) — (202) 225-5916

1) GET INFORMED
Click on the links to find the bill summary.
Look for the hearing dates and committee names.
Read the bill (latest version under bill documents).
Find other resources about the bill.
2) SHARE YOUR INFORMATION
Tell your family, friends, co-workers, and others about the issues.
Ask them to make phone calls, emails, and write letters.
Find a friend to ride to Olympia with.
Partner with a neighbor to watch your children for you.
Form your own community group. (It only takes two to get started)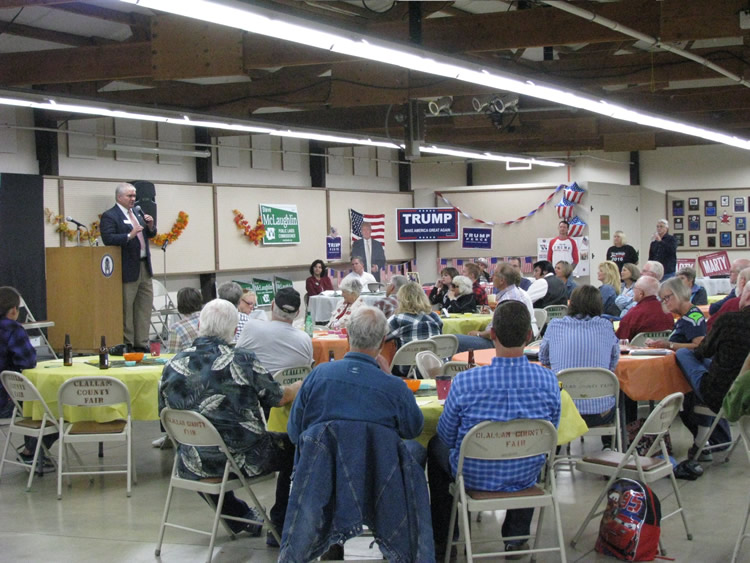 3) SHOW UP !!
Attend hearings, townhall meetings, school board meetings etc.
In Olympia there are three ways to "show up."
Shy – Just come to the hearing and be sure to "SIGN IN" on the sign in sheets. You will need to know your bill number and mark pro/con
Medium – Bring a written testimony to give to the "staffers". You should have a copy for every member of the committee.
Activist – Do all of the above AND mark YES you want to testify. You may be called up to speak.
(from "Research Mom's" website at http://researchmom.homestead.com/tools.html)
Links and Resources – Read to Education Yourself
Clallam County Meetings are arranged by date, with the most recent at the top of the list. Click Video to listen to the meeting and view agenda documents, or Agenda or Minutes to see just the documents. You can also search the archives by typing keywords into the Search box.
Click on the meetings you wish to see under "Available Archives" and you may be able to watch a video of the meeting.
OUR LOCATION
Clallam County Republican
Party Headquarters
509 S. Lincoln Street
Port Angeles, WA 98362
(Send mail to: P. O. Box 808
Port Angeles, WA 98362)
(360) 417-3035
SIGN UP FOR OUR NEWSLETTER
Click Here